News
19/09/2018
Participation of YSAR+ in Singapore exhibition showing Russian innovations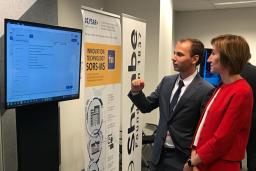 On September 18-19, 2018, telehealthcare technologies of YSAR+ were presented on the stand of the Center for Promotion of Russian Hi-Tech Companies Abroad created at the initiative of the Russia-Singapore Business Council with support from Rostec State Corporation.
Those who were visiting the stand could study the new English-language localized version of the System of Descriptions, Recommendations and Statistics of Mammography Screening. This is a 100%-Russian product, it is developed by YSAR+ JSC and is being actively implemented in regions of the Russian Federation.
Functionality and technological capabilities of the system allow to position it as an information platform for creating competence centers, whose active work will allow to ensure increase in efficiency of automation of screening programs both in Singapore and in countries of South-Eastern Asia.
Honorable guests at the stand were the following: Nikolay Volobuev (Deputy Director General of Rostec State Corporation, Chairman of Russia-Singapore Business Council), Sergey Pronin (Executive Director of the Council, Director General of RSDS Trade House), and Anna Belyaeva (Managing Director for International Projects of the Russian Export Center).
Following the presentation, Anna Belyaeva noted special attractiveness, for constantly developing Asian markets, of cooperation with leading Russian companies which represent the IT sector.