News
09/10/2021
Initiatives of YSAR+ in Serbia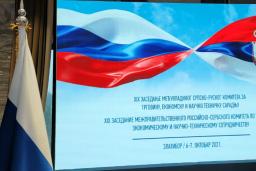 On October 6 and 7, 2021, the 19th Meeting of the Intergovernmental Russian-Serbian Committee on Trade, Economic, Scientific and Technical Cooperation was held in Zlatibor.
The delegation of the Republic of Serbia was headed by Nenad Popovic, Minister for Innovation and Technological Development of the Government of the Republic of Serbia, Chairman of the Serbian part of the Committee. The delegation of the Russian Federation was headed by Yury Borisov, Deputy Chairman of the Government of the Russian Federation, Chairman of the Russian part of the Committee.
The meeting participants discussed current issues of bilateral trade and economic cooperation and the key areas for its further development.
YSAR+ JSC was represented by its Deputy Director Vitaly Zaletov.
In the final part of the Minutes of the Commission it is stated that the Russian delegation have expressed their interest in the continuation of the initiative of YSAR+ JSC to implement in the Republic of Serbia the program for the improvement of early detection of breast cancer by automating breast cancer diagnostics on the basis of the "System of description, recommendations and statistics for mammography screening", as well as the program for early diagnosis of COVID-19 virus infection based on the innovative software "System of description, recommendations and statistics for diagnosis of COVID-19 coronavirus infection using artificial intelligence" (SORS-COVID-19), both developed by YSAR+ JSC.
The parties agreed to consider the possibility of implementing this initiative in Serbian healthcare institutions and to explore new areas of cooperation.
At a meeting on October 5 at the National Institute of Oncology and Radiology of Serbia, Prof. Dr. Zorica Milosevic confirmed that they are ready to consider the start of the Pilot Project at the Institute and proceeded to coordinate the project with the Institute of Public Health of Serbia.
The use of the SORS-MS Protocol developed by YSAR+ JSC will make it possible to systematize the procedures for reading the results of diagnostic tests in accordance with the international standards.
The Trade Mission of the Russian Federation in Belgrade supports the project. Deputy Trade Representative Alexander Lesin participated in the meeting.