News
17/10/2015
New level of diagnostics in Murmansk Region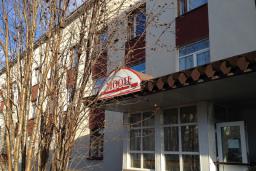 Within the framework of the Healthy North program (healthcare development in the Murmansk Region), YSAR+ supplied and implemented software and hardware systems for diagnostics of malignant tumors and their detection at early stages.
The Murmansk Regional Oncologic dispensary (State Regional Budgetary Healthcare Institution) received the computer radiography system and the JEMYS Tele-healthcare software and hardware system with the module of the System of Descriptions, Recommendations and Statistics of Mammography Screening (SDRS-MS).
The special module for screening process automation (SDRS-MS), while simplifying routine work of diagnosticians, also ensures standardization of their work, facilitates local self-learning, and allows to collect and analyze statistical reporting.
The software and hardware system is integrated in the cancer center's existing information environment. Instructions have been provided, and medical personnel has undergone training for working with the system. It was made possible to conduct remote consultations with the leading specialists from the Russian Scientific Center for Cancer Studies named after N. N. Blokhin, and a strategy will be developed for the best algorithm of revision diagnostics and treatment and expert revaluation of results of diagnostic examinations.