News
08/03/2017
YSAR+ Telemedicine Technologies in the New Perinatal Center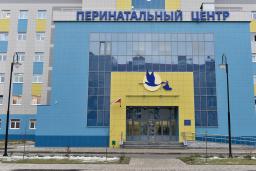 On the feast day of the 8th of March, President of the Russian Federation Vladimir Putin visited the new perinatal center in Bryansk. The Head of state congratulated the first patients of the perinatal center on the holiday.
The President inspected the operation unit, the intensive care unit, the incubator for premature infants and the telemedicine center, which allows to consult with specialists from federal centers, and to develop a regional telemedicine network and counsel maternity hospitals in remote towns of the region.
During the visit to the new center, Vladimir Putin was accompanied by Olga Golodets, Deputy Prime Minister, Veronika Skvortsova, Minister of Health, Sergei Chemezov, Director General of "Rostekh" corporation, and Alexander Kulachenko, Head of the center.
The Management of YSAR+ took part in the opening of the perinatal center. The company's telemedicine center software and hardware complex comprising the server, the automated workstations and specialized equipment for broadcasting from the operating theater, was successfully deployed and demonstrated in the regular operation mode.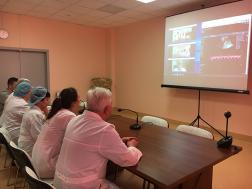 The specialists of YSAR+ completed the installation and setup works in the shortest possible time. The diagnostic equipment was connected to the single information network of the center and configured; special software for the processing and analysis of medical data developed by YSAR+ was installed. Possibility was ensured to receive and process the video stream from the operating rooms of the center. On the opening day of the perinatal center, the first remote consultation was held on the patient of the maternity hospital in Klintsy, Bryansk region. With the help of the telemedicine system, a request was sent and processed, which included the case record, data from the diagnostic apparatus and the results of laboratory tests. In the course of the real-time discussion of the case using videoconferencing, pathology was confirmed and specialists of the maternity hospital in Klintsy were advised to send the patient to the Bryansk perinatal center for further supervision and treatment.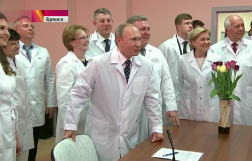 After his visit to the telemedicine center, Vladimir Putin noted that "perinatal centers are primarily centers of high-tech medicine. Now Bryansk doctors will be able to conduct real-time consultations with metropolitan experts or, for example, advise the maternity hospitals of the remote towns of the region."
The Bryansk perinatal center is particularly proud of the fact that 60% of the technical support is comprised of hardware and software systems made in Russia.
Official information source