News
17/03/2018
Participation of YSAR+ in Belgrade Business Forum, Republic of Serbia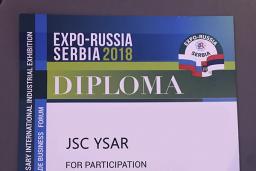 On March 14 – 16, 2018 in Belgrade, capital of the Republic of Serbia, the Fifth Anniversary International Industrial Exhibition "EXPO-RUSSIA SERBIA 2018" was held within the framework of the 5th Belgrade Business Forum.
YSAR+ JSC took part in the event. Marina Nikolaevna Kaygorodova, Regional Director of YSAR+ JSC, made a report on the standardization of breast cancer screening at the round table "Prospects for Cooperation in Innovative Sectors".
Commenting on the report, Vladimir Djukic, Deputy Minister of Health of the Republic of Serbia, stressed that "... The topic of screening and early detection of oncological diseases is relevant and interesting for our Republic's health authorities. The introduction of the innovative solution delivered by YSAR+ can become a subject of promising cooperation in healthcare between our two countries."
The Russian Trade Mission in Serbia is ready to support the project and will provide assistance in the organization of meetings of YSAR+ with the Minister of Health of Serbia and the doctors of the Institute of Oncology and Radiology of Serbia, - believes our Deputy Director Aleksandr Aleksandrovich Lesin.
Marina Nikolaevna Kaygorodova made an answering speech at the round table. She thanked her colleagues for their interest and offered to start the project with the creation of a national cancer competence center and a pilot zone with the participation of experts from N.N. Blokhin Russian Cancer Research Center of the Ministry of Health of the Russian Federation. This will allow for remote consultations on complicated cases with leading cancer experts, improve early breast cancer recognition, and reduce the mortality rate due to this disease.