News
07/04/2018
YSAR's Mobile Solution for Surgeons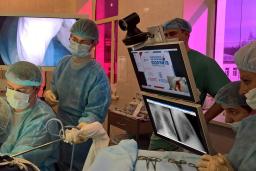 From April 3 to April 6, 2018, YSAR+ JSC together with iTerica took part in the All-Russian Surgical Forum.
YSAR+ presented its technologies in the format of a mobile video-presence complex.
With the use of multifunctional solution provided by YSAR+ JSC, live video podcasts and master classes from operating rooms were organized for the guests of the Forum.
The technology offered by YSAR+ JSC provides parallel transmission of two media streams from the background camera and from the endoscopic camera. The device is easily integrated and can receive and transmit data from any diagnostic equipment or from the medical information system.
This solution has been implemented in a number of healthcare institutions in various regions of the Russian Federation; it has proved to be an effective tool to solve the tasks of mobile video presence and to provide prompt assistance in the course of remote tele-healthcare consultations.
Our colleagues from the Russian Association of Surgeons highly appreciated the user-friendliness of this
product
of
YSAR+ JSC
, as well as the picture quality.