News
20/04/2018
Business Mission of YSAR+ in Singapore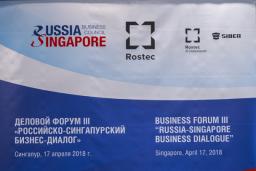 YSAR+ JSC as a participant of the business mission of the delegation of the Russian-Singapore Business Council attended the 3rd Business Forum "Russian-Singapore Business Dialogue" held on April 16-19, 2018 in Singapore. The Russian delegation was headed by Nikolay Anatolievich Volobuev, Deputy General Director of Rostec State Corporation, and Alexey Vladimirovich Gruzdev, Deputy Minister of Economic Development of the Russian Federation.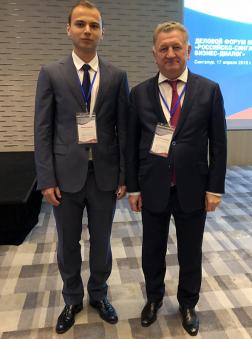 On April 16, YSAR+ JSC headed by Andrey Robsky, Director of the Company's Center for International Projects, supported by the Embassy of the Russian Federation in the Republic of Singapore and the Russian-Singapore Business Council, held extensive talks with the management of the National Cancer Center of Singapore, the delegation of which was headed by THNG CHOON HUA, Prof., Head of the Diagnostics Department. The negotiations were also attended by Andrey Meshcheryakov, Deputy Director of N.N. Blokhin Russian Cancer Research Center of the Ministry of Health of the Russian Federation, and Sergey Pronin, Deputy Chairman of the Russian-Singapore Business Council.
The Singapore participants noted a number of unique system features implemented in the Russian program complex, which physicians need in the process of diagnosis, treatment and specialist training.
On April 17, within the framework of the section "Innovations and Digital Technologies in Healthcare", Andrey Robsky and Prof. Andrey Meshcheryakov made a presentation on the "Multifunctional Tool for Automation of Screening and Diagnostic Processes - The System of Descriptions of Recommendations and Statistics (SORS)". Special software developed by YSAR+ JSC with the participation of FSBI N.N. Blokhin Russian Cancer Research Center has been successfully introduced in a number of regions of the Russian Federation and has been provides both formalization of the activities of individual professionals, and standardization of the process as a whole.
By way of formalized data input, the system automatically creates the basis for a more detailed analysis of the accumulated data to support decision making and the formation of educational content.
On April 19 and 20, the delegation of YSAR+ JSC visited 7 private hospitals in Singapore. The representatives of the healthcare institutions expressed their interest in the technologies offered by YSAR+ JSC and the willingness to consider the cooperation offers received from YSAR+ JSC with close support by the Russian-Singapore Business Council.
Source
of information