News
28/05/2018
Meeting of Experts of the Eurasian-Cambodian Working Group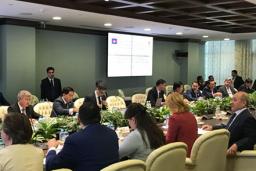 On May 28, 2018, the 2nd meeting of the joint working group on interaction between Eurasian Economic Commission and the Government of the Kingdom of Cambodia was held at the Eurasian Economic Commission. The heads of delegations were: on the part of EEC - Tatiana Dmitrievna Valovaya (member of the Board (Minister) for Integration and Macroeconomics of the EEC), on the part of Cambodia - Tekret Kamrang (State Secretary of the Ministry of Commerce of the Kingdom of Cambodia). The parties discussed the issues of cooperation and coordinated policy in the field of industry, agriculture, and digital technologies. Also, they touched on the subject of changes in customs legislation and technical regulation of the parties, mutual investment guarantees and the possibility of use by Cambodian exporters of the Unified System of Tariff Preferences of EAEU.
About 40 experts from Cambodia and the countries of the Union took part in the meeting. Among the Eurasian experts, there were experts from the Russian-Singapore Business Council:
Sergei Robsky
(Deputy Chairman of the Board, Director of
YSAR+
), Andrei Bykov and Kirill Solntsev (both representing
RSDS Trading House LLC
). On the sidelines, they discussed the prospects for cooperation of Russian companies - members of the Council - with Cambodian state-owned and private companies, in particular using Singapore's potential as a logistics and
technology
hub.
Official
source
of information