News
19/10/2018
YSAR+ Takes Part in Erevan Business Forum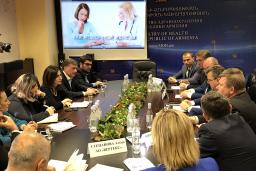 On October 17-19, 2018, a delegation of YSAR+ took part in the 8th Russian-Armenian Industrial Exhibition "Expo-Russia Armenia 2018" and in the Erevan Business Forum.
As part of the program of the Business Forum, a round table was held with the participation of First Deputy Minister of Industry and Trade of the Russian Federation Sergey Tsyb and Deputy Minister of Health of the Republic of Armenia Anahit Avanesyan.
At the round table, YSAR+ was represented by the Director of the International Projects Center Andrey Robsky. In his speech he stressed that YSAR+ is ready to cooperate with the Ministry of Health of the Republic of Armenia on the project for establishing an effective breast cancer screening system in the Republic.
Our innovative technology – the system of descriptions, recommendations and statistics for mammographic screening - can be implemented in medical organizations of Armenia to ensure effective diagnosis of breast cancer at early stages, as well as to provide a powerful tool for quality control of the services provided. In the course of discussions, Sergey Tsyb supported YSAR+ as a Russian software manufacturer and recommended his Armenian colleagues to include the innovative technologies of YSAR+ in their project.
As oart of implementation of the decisions made at the round table, the delegation of YSAR+ visited the National Cancer Center of the Republic of Armenia where they presented the product to the Center's Medical Director Arthur Avetisyan. As a result of further negotiations, the parties drafted an action plan for the development of the project.
The work program of the delegation of
YSAR+
ended with a visit to the private
Astghik Medical Center
. Negotiations were held with
Asatur Asatryan
, General Director of the Center. The
SORS-MS system
was also demonstrated to the profile specialists of the Center. The parties discussed and identified possible ways of cooperation.