News
23/11/2018
YSAR+ Solutions for Obstetrics and Neonatology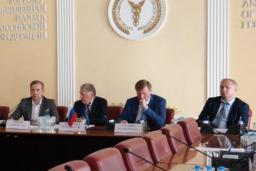 On November 21-23, YSAR+ in partnership with Shvabe Holding presented its SORS tele-healthcare platform at Anesthesia and Resuscitation in Obstetrics and Neonatology, the 11th All-Russian Educational Congress.
Tele-healthcare technologies of YSAR+ are used in perinatal medical centers, the technical and informational equipment of which was provided by YSAR+ as part of implementation of its joint projects with Shvabe Holding.
The system of descriptions of recommendations and statistics SORS developed by YSAR+ allows to automate the process of rendering specialized telemedicine consultations by introducing dedicated formalized protocols into the information system.
With the help of the SORS system, experts and managers of healthcare institutions got the opportunity to control the quality of examinations done by them and their compliance with international standards; to improve the level of specialists' education, and to create a specialized examinations database.
The partnering relationships with Shvabe Holding keep developing and are taking shape of a number of joint federal projects for the creation and implementation of highly effective innovative healthcare solutions.