News
14/02/2020
The Prospects of Long-Term Mutually Beneficial Cooperation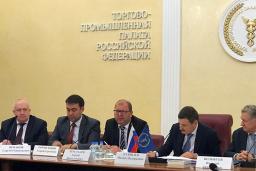 On February 12, at the Chamber of Commerce and Industry of the RF in Moscow, a meeting of representatives of Business Councils on cooperation with Singapore and with Cyprus was held, headed by their respective leaders, Nikolai Anatolyevich Volobuyev and Mikhail Valeryevich Kuzovlev.
YSAR+ JSC, as a member of the Russian-Singapore Business Council and a regular participant in its events, actively continues its work, both in Singapore and in the Republic of Cyprus
One of the new trends in the consolidation of Russian business with foreign companies on the global stage is interaction through business councils. These are public organizations, whose members are actively involved in the search for new partnerships with the purpose of establishing long-term cooperation. Interaction at the level of business councils opens up new horizons for solving such tasks.
In the field of healthcare, YSAR+ introduced a unique screening automation platform in the Republic of Cyprus. One of the configurations of this platform is the specialized "System of Descriptions, Recommendations and Statistics of Mammographic Screening" (SDRS-MS), which provides automation of the diagnostic process and decision-making support for the doctors.
"Our SDRS-MS system is already successfully operating in the German Cancer Center in Limassol; simultaneously, our software is being introduced to a number of medical institutions in Cyprus; moreover, we are ready to promote Russian technologies in the framework of promising projects and to develop existing relationships with business structures of the Republic of Cyprus," noted the Director of YSAR+ JSC, a member of the Board of the Russian-Cyprus Business Council, and Deputy Chairman of the Council Sergei Yuryevich Robsky.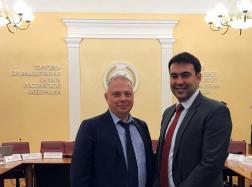 The potential of a new promising vector of business partnerships - Cyprus-Russia-Singapore - was demonstrated on the example of the implementation of an international project to build a high-tech sports and fitness complex for training and rehabilitation of athletes; the project is planned to be implemented by three parties. The construction site is in Cyprus, the technologies will be provided by Russian companies (Rostec State Corporation and YSAR+ JSC), with the investment package to be formed by Singapore companies.
During the meeting, it was agreed to present this project at the international economic forum "The 5th Russian-Singapore Business Dialogue".