News
02/10/2020
Presentation of Information Technologies to Pavel Pugachyov at Shvabe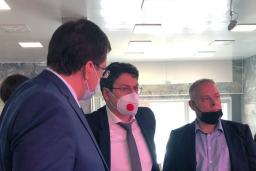 On October 1, 2020, a meeting on cooperation between the Holding and the Ministry of Health of the Russian Federation was held at the premises of Shvabe JSC.
The delegation of the Ministry was headed by Deputy Minister Pavel Pugachyov.
The participants made a tour of the exposition of equipment manufactured by Shvabe and its partners, during which Ivan Ozhgikhin, Deputy General Director for the Development of Sales, Marketing and Service Support of Civilian Products presented medical and infrastructure projects of the Shvabe Holding of Rostec State Corporation.
As part of the presentation of integrated solutions for the digitalization of healthcare, our Company demonstrated the feasibility of our early diagnosis and screening platform (SDRS) and its interaction with the radiological information system.
Automatic thermal imaging systems and digital thermometric devices were also presented to the Deputy Minister.
The meeting also discussed hot topics and current issues of healthcare and medical industry.