News
30/04/2021
YSAR+ at SportForumLive International Sports Forum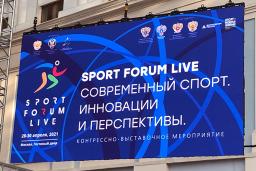 YSAR+ took part in the international sports forum named "SportForumLive. Modern Sport, Innovations and Perspectives", which was held on April 28–30 in Moscow at Gostiny Dvor, 4 Ilyinka Street.
The Forum brought together experts and specialists in the field of sports, as well as representatives of federal and regional authorities, for a professional discussion of the strategy of development of physical culture and sports in the Russian Federation until 2030.
At the Forum, the participants discussed topical issues in the sports industry, including improvements in the sports industry, the digital transformation of physical culture and sports, and much more.
Together with its partner State Institution "Center for Sports Innovative Technologies and National Teams Training" under Moscow City Sports Department (Moskomsport), YSAR+ took part in the panel discussion titled "The Concept of Digital Transformation of Sports at the Regional Level".
Sergey Dyachenko, Deputy Director of YSAR+ JSC, delivered a speech on "Programs of Preventive and Rehabilitative Work as a Structural Component of Training Activities of Moscow Athletes".