News
13/12/2021
YSAR+ as Participant of the Russian-Serbian Business Council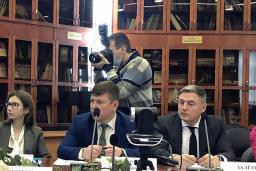 An extended meeting of the Russian part of the Russian-Serbian Business Council was held on December 10, 2021, at the Chamber of Commerce and Industry of the Russian Federation.
During the meeting, the participants of the Business Council discussed the prospects of the current projects of cooperation between Russia and Serbia, the list of bilateral congress and exhibition events, and the working plan for the Council.
A representative of YSAR+ made a presentation on the implementation of the project for the integration of JEMYS information technologies in the healthcare system of Serbia.
YSAR+ has offered the Serbian party to consider incorporating into the national health information network a software package that will ensure the effective control of oncological diseases with their early detection, as well as special software with a built-in artificial intelligence algorithm for Covid diagnostics.
"I am sure that YSAR+ solutions, which have already proven their effectiveness in Russian healthcare institutions, can also benefit Serbian doctors in their practical work to save human lives," the speaker emphasized.