News
20/12/2021
YSAR+ Participates in the VI Russian-Singapore Business Dialogue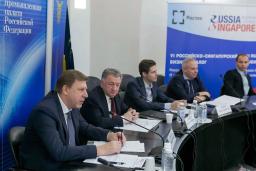 The VI Russia-Singapore Business Dialogue organized by the Russia-Singapore Business Council (RSBC) with the support of Rostec State Corporation took place on December 17. The business dialogue was conducted in a mixed format: on the platform of the Chamber of Commerce and Industry of the Russian Federation in Moscow and at the Center for Overseas Promotion of Russian Hi-Tech Companies and Presentation of Investment Projects of the RSBC in Singapore. The forum participants were connected by means of a Russia-Singapore teleconference bridge
The Forum was opened by Nikolai Volobuev, Chairman of the Russia-Singapore Business Council: "Despite the limitations imposed by the pandemic, the RSBC has found a communication format that allows to discuss the topical issues and the future trajectory of cooperation between Russian and Singaporean business circles."
The business program of the Forum was moderated by Vice-Chairmen of the Russia-Singapore Business Council: Sergey Robskiy in Moscow and Sergey Pronin in Singapore.
The event was attended by Vice President of the CCI Vladimir Padalko, Minister of Moscow Government, Head of the Department of Moscow for Foreign Economic and International Relations Sergey Cheryomin, Director of the Department for Multilateral Economic Cooperation and Special Projects of the Ministry of Economic Development of Russia Natalia Stapran, Director of the Foundation for Art and Social Development, former Ambassador of Singapore in Russia Michael Tay, as well as representatives of large and medium-sized businesses, investment funds, public and scientific organizations, heads of state and municipal authorities, representatives of Russian regions, representatives of the countries of Southeast Asia and the European Union.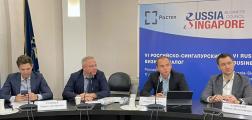 At the plenary session of the Forum "International Engineering and Manufacturing Cooperation, Contract Manufacturing and Digital Technologies", Director of the International Projects Center of YSAR+ JSC Andrey Robskiy made a report on "Application of AI-Based Support Systems for Medical Decision-Making."
"YSAR+ sees the prospects for business development in the market of South-East Asia and is ready to deploy in the Center for Overseas Promotion of Russian Hi-Tech Companies and Presentation of Investment Projects of the RSBC in Singapore a new version of the software complex that will ensure effective combat against cancer with early detection, as well as special software with a built-in AI algorithm for Covid diagnosis", Andrey Robskiy emphasized.