Projects
March 2015
Republic Oncologic dispensary named after E. S. Timoshkaeva
In the Republic Oncologic dispensary of the Republic of Kalmykia, YSAR+ ensured design, supply and putting in full-scale operation of a software and hardware complex for receipt, processing and storage of diagnostic images, with functionality of remote consultation, which would ensure in the future support of a unified cancer-prevention service in the Republic of Kalmykia.
Medical institution's local area network has connections to automated workplaces of doctors from the sections of X-ray diagnostics, endoscopy and ultrasonic examinations.
Aysa Viktorovna Badmaeva, Head of the X-Ray Diagnostics Department, says: "Now, after putting in operation of new equipment, our X-Ray Diagnostics Department is able to conduct patient examinations quickly and with high level of quality. All examinations conducted on this equipment give low levels of radiological exposure and take no more than 10 minutes per patient, which allows making diagnoses quickly. Thanks to the system of storage and transmission of data (JEMYS), doctors can reconcile their opinion statements with specialized Federal Medical Centers; at present, communication is established with the Blokhin Oncologic dispensary".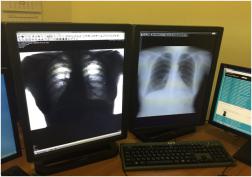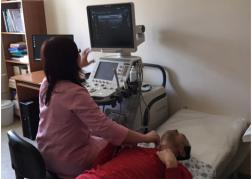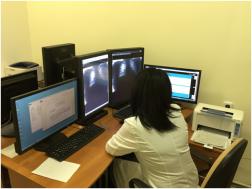 "My work experience with the JEMYS-Endoscopy software is about 4 months. The workstation is connected to FUJINON 4450 videoracks.
The impressions are very positive. First of all, the software is easy to use. A 2-hour instruction was ready for starting work. Then, you are not left alone with something unfamiliar. You can address engineers with any question. Moreover, by using remote access, they test the system, correct malfunctions (there was a case of incorrect usage), and update the software taking into account our comments.
What does this software give to me? It raises quality of my work. Now I have an opportunity to conduct 'repeated re-examinations of patients', or, to put it more exactly, re-examination of video or photo records of their examinations. Sometimes, exactly during studies of images, you notice some details that you have not paid attention to during patient's visit. I call it 'my third eye'. Then, of course, thanks to availability of templates, the volume of paperwork routine has decreased significantly.
I thank the developers and wish them success in their work", says Erna Borisovna Edgeeva.