News
18/06/2017
YSAR+ solution for maternity and childhood system of the Republic of Ingushetia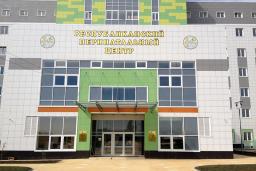 On June 16 the ceremonial opening of the first perinatal center in the Republic of Ingushetia took place in Nazran, the capital of the Republic of Ingushetia.
The opening was attended by Veronika Skvortsova, the Minister of Health of Russia, and Yunus-Bek Evkurov, the Head of the Republic. "Today we are opening the outstanding perinatal center. This is not just a hi-tech medical establishment, but the coordinating center for the whole maternity and childhood protection system in the territory of Ingushetia" - said the Minister.
The perinatal center has been built thanks to the target republican program for "Modernization of Healthcare in the Republic of Ingushetia". The Center is designed for 130 beds and 100 visits per shift. More than 700 qualified specialists trained in the leading Russian clinics, including 200 doctors will be working here.
YSAR+ ensured integration in the perinatal center of the automated system of remote tele-healthcare consultations.
YSAR+ specialists performed the complicated installation and commissioning works with respect to hardware and software tele-healthcare system, which includes the service part, automated workplaces and specialized equipment to ensure information flow from the operation room. Tele-healthcare system is connected with diagnostic equipment, which interacts with workplaces of doctors by means of special software, developed by YSAR+.
The regional tele-healthcare center has been opened in the perinatal center. First consultation between Sunzhenskaya Central District Hospital and perinatal center took place. In order to consider the difficult case the center specialists held the board of doctors and agreed upon the treatment and fetus preservation tactics. The lead experts of St. Petersburg State Pediatric Medical University federal specialized institution were invited for the consultation and provided the required assistance to the local specialists.
Thus, the possibility for all medical establishments in the Republic to hold remote specialized consultations has been ensured.
The perinatal center Chief Medical Officer highly appreciated the results of work of YSAR+ professionals.