News
18/10/2017
ROSTEC-YSAR: screening telemedicine diagnostic methods, competences, new technologies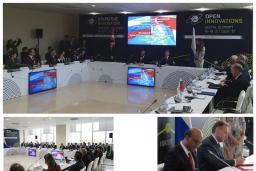 YSAR+ is an active member of the Russian-Singapore Business Council.
Based on the results of the meetings, a package of proposals was formed, which was included in the working program of the meeting of the Russian-Singapore Intergovernmental Commission. The commission was attended by Nikolay Anatolyevich Volobuev, Deputy General Director of Rostec State Corporation, and Sergey Evgenyevich Pronin, Executive Director of the Russian-Singapore Business Council.
The initiative of YSAR+ on cooperation in the field of medical projects was identified as a priority in the perspective of socio-economic development.
In particular, the parties supported the joint engagement of Rostec and United Crest Healthcare (Singapore company) in the creation of international cooperation in the field of telemedicine, the development of iMedic (Singapore) and JEMYS (Russia) technologies by combining core competencies, in particular in oncology, for the purpose of provision of quality medical services. The agreement envisages the implementation of a joint pilot project in the territory of Chuvashia with the participation of YSAR+ and N.N. Blokhin Russian Cancer Research Center.
During the meeting, the participants emphasize that the next year marking the 50th anniversary of the establishment of diplomatic relations between Singapore and Russia, should continue to show positive trends both in the economy and in the social sphere.
Official
source
of information