News
03/02/2018
The Middle East Region is Ready for Cooperation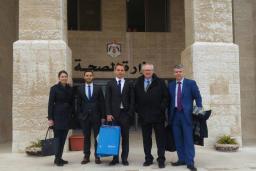 A large-scale presentation held at the Ministry of Health of the Kingdom of Jordan (Amman) became another step in the development of international projects of YSAR+ JSC. The Russian delegation was headed by Andrey Robsky, Director of the Center for International Projects of YSAR+ JSC.
On January 28, the team of YSAR+ JSC, together with the leading specialists of the the N.N. Blokhin Russian Cancer Research Center of the Ministry of Health of the Russian Federation, held a thematic conference at the Ministry of Health of the Kingdom of Jordan, which was attended by the staff of this agency, as well as by interested representatives of public and private healthcare institutions. Within the framework of the conference, YSAR+ JSC presented tele-healthcare technologies, which the company is ready to offer to potential customers in the foreign market.
The Jordanian participants showed interest in the presented technologies and expressed their desire to develop cooperation in this direction. The parties signed a protocol of intent in which they defined a plan for the creation of a pilot zone and a gradual expansion of mutually beneficial cooperation
The Russian delegation highlighted the role of the Russian Embassy in Jordan and the Russian company supporting the export and import activities - RSTradehouse LLC, www.rstradehouse.com
The Russian delegation dedicated the following days to negotiations with the representatives of public and private medical clinics and hospitals. A version of the system of descriptions, recommendations and statistics for mammographic screening adapted to foreign markets was of particular interest for the representatives of the Jordan Breast Cancer Program who plan to actively monitor the quality of screening studies and their compliance with the international standards, to create a unified national database of mammographic studies, and to increase the level of training of the local specialists.