News
29/06/2018
YSAR+ Participated in Almaty Business Forum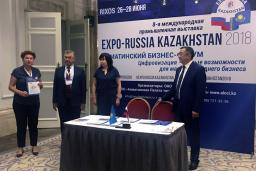 YSAR+ JSC took part in the business forum held on June 26 to June 28, 2018 at the 8th International Industrial Exhibition EXPO-RUSSIA–KAZAKHSTAN 2018 in Almaty, Republic of Kazakhstan.
As part of the IT Technologies subject panel discussion Mrs. M. N. Kaigorodova, Regional Director, presented YSAR+ JSC. Her presentation focused on core activities, successful regional projects and footprint of the Company.
Mrs. N. V. Kochergina, Prof., MD, Lead Researcher of N. N. Blokhin National Medical Research Center of Oncology under the Ministry of Health of Russia, presented to participants of the panel discussion a ready solution – telemedical technologies of YSAR+ for automation of breast and lung cancer screening methods. After Mrs. N. V. Kochergina's presentation, diagnosticians of Kazakh Research Institute of Oncology & Radiology and Almaty Oncology Center were given an opportunity to work with the screening system.
Russian delegates also visited Kazakh Research Institute of Oncology & Radiology, where they held negotiations with Academician Mrs. D. R. Kaidarova, the Institute's Director and Chief of X-Ray Diagnostics Department.
Moreother, Almaty Mayor's office, Almaty Trade & Investments Chamber, and Almaty Cancer Detection Center were interested in the innovation technologies presented; in view of the support of the project provided by the Trade Mission of Russia in Kazakhstan and Zarubezh-Expo CJSC, the Russian and Kazakh parties agreed on further steps towards interaction and promotion of joint screening projects in the territory of the Republic of Kazakhstan.