News
21/07/2018
Promotion of the Russian hi-tech products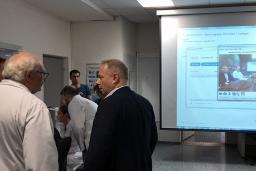 Remote presentation of SORS (guidelines & statistics description system), a front-line domestic solution, was performed by YSAR+ JSC. SORS is a multi-functional innovation product for diagnostic automaton and medical judgment support – a groundbreaking solution in telemedicine, namely "doctor-to-doctor", used during medical consultations, too.
The presentation was performed by Russian Hi-tech Promotion Center in the context of development of medical cooperation between the Russian Federation and Republic of Singapore (a Singapore company-based Russian Hi-tech Promotion Center was established under support of the Russian-Singapore Business Council and operates to promote Russian hi-tech companies and present investment projects).
The presentation of SORS system in Singapore was organized by Mr. Sergey Pronin, Deputy Chairman of the Russian-Singapore Business Council. The event was attended by the Singapore healthcare officials and representatives of the Russia's Embassy and Trade Mission in the Republic of Singapore.
The Russian side was represented by Mr. Sergey Robskiy, the Director of YSAR+ JSC, a Russian investment company. The group of medical specialists who participated in the event was headed by Academician Boris Ivanovich Dolgushin, Deputy Director of National Medical Oncology Research Center, Ministry of Health (Russia).
In the course of a telemedicine communication session, the leading specialists of the oncology research center demonstrated an operating breast cancer screening system, whereby the two specialists performed a real-time analysis of the diagnostic study and issued their second-opinion on the complicated medical case
The Singapore side showed their interest in the presented
technology
and is ready to consider further development of cooperation in this area, both via experience sharing between Singapore and Russia using this system and in the context of promotion of this Russian telemedicine solution to other countries in the South-East Asia.