News
17/10/2018
YSAR+ Training Course Starts at I.M. Sechenov University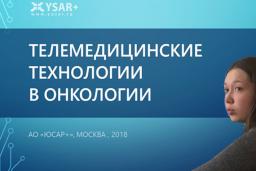 On October 16, 2018, a training course on practical use of innovative telemedicine technologies in healthcare for university students held by experts from YSAR+ started at the Department of Information and Internet Technologies of the Institute of Personalized Medicine of I.M. Sechenov First Moscow State Medical University of the Ministry of Health of the Russian Federation in accordance with a previously signed agreement.
The first workshop was devoted to the fundamentals of telemedicine technology based on JEMYS product line, in the framework of which YSAR+ developed an innovative system for automating mammographic screening – the system of descriptions, recommendations and statistics (SORS).
Additional questions to the trainer after the end of the workshop proved that second-year students of the University were deeply interested in the material. The relevance of the topic and the prospect of using the YSAR+ technologies in their daily activities after graduation from the University explain the students' desire to start practical work as soon as possible, to study and try out the functionality of the system.