News
20/04/2019
YSAR+ at the Congress of Russian Oncologists in Nizhny Novgorod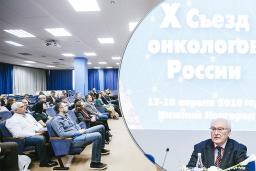 The 10th Anniversary Congress of Russian Oncologists, which took place on April 17-19, 2019 in Nizhny Novgorod, brought together the country's leading oncology specialists.
For 3 days, delegates of the Congress shared their experiences, discussed the most typical problems and tried to find common approaches to the diagnosis and treatment of malignant tumors.
"We do not yet have common approaches either to diagnosis or to treatment. Most importantly, there is no absolute availability of oncological care services throughout the country," - noted the President of the Association of Russian Oncologists academician Andrey Kaprin in his speech.
YSAR+ JSC delegated to the forum its Deputy Director Vitaly Zaletov, who held a series of negotiations at the Congress sites with representatives of regions of the Russian Federation on the implementation of YSAR+ information technologies for the automation of early diagnosis and screening processes.
The technology includes telemedicine software and an innovative solution – the System of Descriptions, Recommendations and Statistics (SDRS) (the product has a registration certificate for a medical product issued by the Federal Service for Supervision in Healthcare (Roszdravnadzor)).
The implementation of SDRS will allow to improve the screening process in a shorter time through standardization, training and quality assessment of specialists at all stages of the routing of the examined patients, as well as the formation of recommendations depending on the results obtained.
The system also facilitates the analysis and processing of medical surveys for remote telemedicine consultations within a single information space with the possibility to obtain a second expert opinion from the national cancer centers of the Russian Federation.
As part of the scientific program of the Congress, in the Information Technologies section N.V. Kochergina, oncologist professor, Doctor of Medicine gave a presentation on the topic "Remote technologies of X-ray mammography screening for breast cancer". In her speech, Professor Kochergina used
SDRS
as an example of
information technologies
that are ready for use as an effective tool in the implementation of regional screening programs.