News
23/05/2019
New Cooperation Perspectives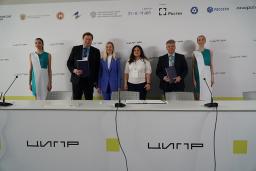 At the digital industry conference in Innopolis (Kazan), YSAR+ JSC signed a cooperation agreement on the development of information systems for cancer screening with Shvabe Holding and GE Healthcare. The cooperation is aimed at promoting information technologies for one of the key federal programs "Cancer Control in 2018-2024" of the national "Healthcare" project, as well as for other projects of the Ministry of Health of the Russian Federation.
The document was signed by Dmitry Kusov, Deputy Director of YSAR+ JSC; Ivan Ozhgihin's Deputy Director General for the Development of Sales, Marketing and Service Support Systems for Civilian Products of Shvabe, and Nina Kandelaki, President and Executive Director of GE Healthcare in Russia / CIS.
"The scope and diversity of tasks for reforming our national healthcare outlined in decrees and resolutions of the President and the Government of the Russian Federation necessitate the creation of flexible, vertically integrated systems, which would automate the activities of healthcare organizations, starting with diagnosis of diseases and ending with treatment using innovative high-tech methods. I believe that the agreement signed by us will allow to combine the efforts of three powerful professional teams to create highly effective solutions that can really improve the availability and quality of medical services provided to the general public," ‒ noted Dmitry Kusov.
As part of the forum, a multifunctional platform for early diagnosis and screening of cancer was presented at the joint stand.
The technology includes telemedicine software and an innovative solution – the System of Descriptions, Recommendations and Statistics (SDRS) (the product has a registration certificate for a medical product issued by the Federal Service for Supervision in Healthcare (Roszdravnadzor)).
The implementation of SDRS will allow to improve the screening process in a shorter time through standardization, training and quality assessment of specialists at all stages of the routing of the examined patients, as well as the formation of recommendations depending on the results obtained.
The system also facilitates analysis and processing of medical research for
remote telemedicine consultations
within a single information space with the possibility to obtain a second expert opinion from the national cancer centers of the Russian Federation.