News
31/05/2019
YSAR+ Technologies at Radiology 2019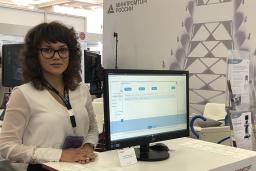 Medpharmdiagnostika 2019, a forum and a large-scale specialized exhibition, took place on May 28-30, at Crocus Expo International Exhibition Center as part of the Radiology 2019 Congress.
At the joint stand of the Ministry of Industry and Trade of the Russian Federation, YSAR+ JSC together with Schwabe holding company presented technologies for the automation of the early diagnosis and screening processes.
The technology includes telemedicine software and an innovative solution – the System of Descriptions, Recommendations and Statistics (SDRS) (the product has a registration certificate for a medical product issued by the Federal Service for Supervision in Healthcare (Roszdravnadzor)).
The System is designed for the organization, conduct and analysis of results of regional screening programs in accordance with international standards providing for multiple studies of various diagnostic images.
During the operation of the system, a unique database is created to obtain accurate sanitary and epidemiological figures and conduct in-depth analysis that will provide a comprehensive assessment of the effectiveness of regional screening programs.
The implementation of the System will also provide a new format of distance learning, including self-study, in order to improve the educational level of specialists.