News
27/06/2019
YSAR+ at the International Symposium on Sports Medicine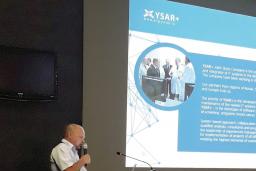 Together with Shvabe Holding, YSAR+ JSC took part in the anniversary 40th World Medical and Health Games in Budva (Montenegro)
As part of the Games, the organizers held a symposium on medicine. A YSAR+ representative delivered a presentation for our colleagues on our innovative screening technology and our new solutions involving the use of information technologies and telemedicine.
The technology includes telemedicine software and an innovative solution, the System of Descriptions, Recommendation and Statistics (SDRS); the product has a Marketing Authorization issued by the Federal Service on Surveillance in Healthcare and Social Development of the Russian Federation (Roszdravnadzor).
The
System
is designed to organize, conduct, and analyze the findings of diagnostics in accordance with international standards.