News
22/08/2019
Information Technology Cooperation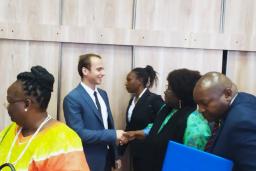 On August 21, 2019, the official delegation of the Republic of Mozambique, headed by Her Excellency First Lady Isaura Ferrao Nyusi visited the P. A. Hertsen Moscow Oncology Research Institute.
Within the meeting, the specialists of YSAR+ JSC presented home-grown technologies in health care: System of Description, Recommendations and Statistics (SDRS, made by YSAR+) for automation of the breast cancer screening. During the SDRS demonstration, the telemedicine consultation with the German Cancer Center in the Republic of Cyprus was shown to the Mozambique's colleagues. In addition, mobile medical complexes were presented to distinguished guests from Mozambique as a common strategic project of the Shvabe Holding of the Rostec State Corporation, Mobile Complexes NPO and YSAR+ JSC, and the advantages of their use both in Russia and Mozambique were described in detail.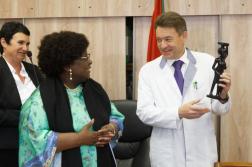 A.D. Kaprin, Academician of the Russian Academy of Sciences, Director General of the Federal State Budgetary Institution National Medical Research Radiological Center of the Ministry of Health of the Russian Federation, in his welcoming speech noted the importance of cooperation with Mozambican experts in order to increase professional development, the level of medical care using modern information technologies as well as the capabilities of mobile systems.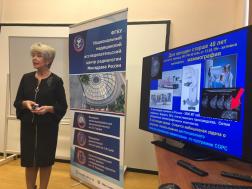 «The System of Description, Recommendations and Statistics can provide medical organizations with technologies both for the management of radiologists routine activities and for any type of screening and early diagnosis. The platform automates the activities of diagnostic specialists in accordance with international standards, it transfers medical data from mobile complexes to stationary institutions for analysis and storage in the archive, and also provides the ability to evaluate the quality of screening at all stages - and all this can be made remotely» - noted in her speech Rozhkova N.I., Chief Mammologist of the Russian Federation - Head of the National Center for Oncology of Reproductive Organs.
The presentation of Mammographic Screening Systems aroused much interest among the Mozambican guests, especially regarding the organization of screening, the possibility of telemedicine interaction between the state hospitals of Mozambique and the national medical research center of the Russian Federation. Using this system, health care institutions in Mozambique will receive the second opinion from Russian specialists, including support for the provision of preventive medical examination of the population.
In a number of regions of the Russian Federation, this solution is successfully applied in the
YSAR+ software
together with the strategic partner of
SHVABE JSC (Rostec Group)
for early diagnosis and screening of breast cancer; the
product
has a Certificate of Registration for a medical device from the Federal Service for Surveillance in Healthcare and Social Development.