News
05/05/2020
YSAR+ Thermal Scanners – Our anti-virus solution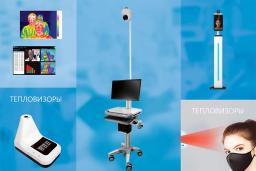 As part of the action plan to control the coronavirus infection, YSAR+ JSC offers the supply, adaptation, and maintenance of thermal scanning equipment.
At your request, YSAR+ JSC will quickly equip any office, enterprise, or organization with thermal scanners necessary to control the epidemic.
Our customers can make a selection from several types of thermal scanners. Depending on the location of the thermal scanning equipment, the experts of YSAR+ will recommend and help you choose the most effective model.
Thermal scanner Pro_Jemys.2020 is an innovative product that allows you to identify people with high body temperature at checkpoints.
Thermal scanner Pro_Jemys.2020 consists of:
Mobile rack with bracket;
Thermal camera (installed on the mobile rack);
System unit (integrated in the mobile rack);
Display 21,5' (fixed on the mobile rack);
Uninterrupted power supply (integrated in the mobile rack);
Keyboard;
Mouse;
Software (exclusive rights belong to YSAR+ JSC).
Pro_Jemys.2020.lite - тhermal imaging system with the function of identifying persons with elevated body temperature.
Product Function
Usage scenario - Main entrance and exit
The intelligent temperature measuring machine can be installed in the main entrances of crowded places such as enterprises, schools, hotels, shopping malls, office buildings, banks, government halls, etc., to monitor the temperature of employees, customers, and visitors in real time, effectively helping to prevent epidemics.
Functional features - facial recognition to measure the temperature
It is based on infrared thermal imaging technology, using imported infrared sensor and 2-megapixel binocular live wide dynamic camera, face recognition within a distance of 0.2m-0.8m while collecting body temperature. It works even if you wear a mask on your face, better prevent cross-infection.
Epidemic prevention and control - Fever alert
Product prevention set a high temperature warning threshold, when a person's temperature is detected to exceed the warning threshold, immediately start the voice alarm mechanism, indicating the risk of infection, effectively protect the health of personnel, and effectively prevent and control the epidemic.
Management platform - Data query
The product supports the data network upload function, which can form the temperature detection data into a table,and capture the portrait real-time upload background and push the SMS to the designated management personnel for tracking inquiry.
Thermal scanner K3 is a solution to detect people with high body temperature. These devices are widely used in small kiosks, shopping centers, airports, healthcare and educational institutions, shopping and entertainment centers, etc.