News
31/05/2021
YSAR+ JSC at a Conference in Bulgaria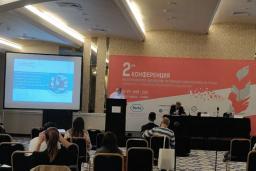 On May 28–29, 2021, the second conference of the Bulgarian Society of Breast Imaging organized jointly with the Bulgarian Association of Radiology, was held in Sofia, Bulgaria. More than 20 specialists in mammology and radiology spoke and made presentations at the conference.
Dr. Mladen Mladenov, a leading specialist at St. Sophia Clinic, delivered a report on "Innovative System of Descriptions, Recommendations, and Statistics for Mammographic Screening (SORS-MS)". In his presentation, Dr. Mladenov demonstrated to conference participants the key functions of the system and shared his comments on the possibility of its application in healthcare organizations in Bulgaria.
Dr. Mladenov's report included a video chat with Dr. Irina Van Der Most, an expert from a German screening center. In her speech, Dr. Van Der Most praised the SORS-MS system and confirmed her readiness to advise her Bulgarian colleagues on the operation of the SORS-MS system.
"The conference participants showed great interest in the
SORS-MS system
; a number of specialists stated their willingness to continue familiarizing themselves with its functionality in more detail in the near future,"
Dr. Mladenov
shared his opinion, summarizing the results of the conference.