News
25/10/2021
YSAR+ Technologies at the GITEX International IT Exhibition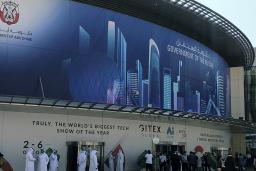 GITEX Technology Week 2021 (GTW), an international IT exhibition, took place in Dubai. This event, the largest in the region, is a key event for the global IT sphere.
YSAR+ JSC presented its solutions and technologies at the joint stand of the Russian Export Center under Made in Russia brand.
"At YSAR+, we pay special attention to our competitiveness on the world market. At our stand we demonstrated our new software, the System of Description, Recommendations and Statistics for the Diagnostics of COVID-19 (SDRS-COVID). This is an innovative development using artificial intelligence technology, which helps a diagnostician promptly determine the lung tissue lesion volume, and also to record a number of additional parameters to provide a more accurate diagnosis", noted Andrey Robsky, Director of the Center of International Projects, YSAR+ JSC.
Visitors from the UAE, Qatar, India, Israel, South Korea, Luxembourg, and France showed interest in the products presented at the YSAR+ stand.
During the event, a number of meetings and negotiations were held with representatives of public and private healthcare centers, as well as with companies - potential partners who are ready to develop cooperation in order to use
YSAR+
solutions
in their projects.