News
10/12/2021
YSAR+ at the Russian Health Care Week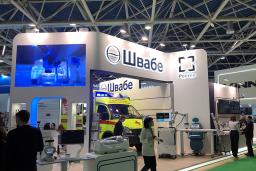 International Scientific and Practical Forum "Russian Health Care Week", which was held at Expocentre, ended on 09.12.2021.
As part of the work of Shvabe Holding's joint stand, the specialists of YSAR+ held several meetings with representatives of Zagorsk Optical and Mechanical Plant, Krasnogorsk Zverev Plant, POLYUS Research Institute of M.F. Stelmakh, Novosibirsk Instrument-Making Plant, Lytkarino Optical Glass Plant, and Shvabe-Moscow.
Ready-to-use YSAR+ products combined with the accumulated experience in the implementation of complex federal and regional projects involving the deployment of customized information systems in local and regional health care networks have attracted the Holding's production companies interested in the development of joint integration solutions.
In the perspective of their cooperation, the parties envisage the use of artificial intelligence technologies developed by YSAR+, which will increase the competitiveness of the hardware and software complex, particularly in the international market
At the site of the joint stand, negotiations were held between employees of the commercial division of YSAR+ and representatives of the regional partner companies. Cooperation agreements were signed.