Products
Radiological information system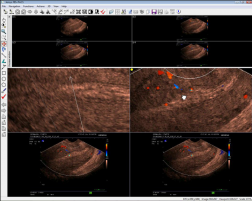 The digital radiological information system with a module for image archiving (RIS+PACS) has been developed for usage in diagnostics units of medical centers, hospitals and clinics.
RIS - Radiology Information System
PACS - Picture Archiving & Communication System
In the process of integration of digital radiological information system with existing information infrastructure of a medical institution, all hardware and software components are supplied that are necessary for managing work processes and organization of diagnosticians' workplaces. This applies in an equal degree both to creation of reports on investigation results and to archiving and transmission of images through the DICOM protocol (for example, for tele-healthcare consultations).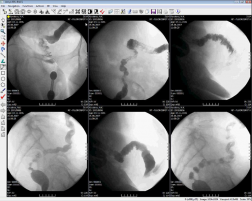 Modernization of workplaces makes work faster on all stages: from patient registration to transfer of data with investigation results. The PACS system is supplied with inclusion of digital detectors, networks, archive, computers and software.
Russian-language version of the Digital Radiological Information System with image archiving module (RIS+PACS)
Ensures display, processing and analysis of visual information arriving from various types of diagnostic equipment with archiving function;
Installation includes workstation license;
Performs the following principal functions:
Choice of display layout, creation of any scheme for overview and diagnostic regions.
Adjustment of tool panels and context menu.
Image re-grouping with mouse, allows transfer of images from overview image area to diagnostics image area using drag and drop method.
Switching between images using pictograms.
Cutting of images for viewing session. This mode allows to mark images that need to be hidden or restored for viewing/printing.
Printing of images. Printing of images is possible in direct or reverse order.
DICOM printing: printing on DICOM printers.
Setting window parameters (center, brightness, width, contrast).
Measurement of values of pixel (image element): density, intensity.
When hovering mouse over image, textual information area shows data on density value in given point.
Comparison of two investigations: uploading two or more investigations to image processing field.
Measurement of distance, image calibration.
Measurement of angles.
Selection of region of interest (ROI) and area measurement. It is possible to select rectilinear, oval, polygonal and arbitrary regions of interest with indication of average density and area of selected region.
Placement of comments on images.
Interactive zooming in/out on images, mode for displacement of zoomed-in image.
Interactive image rotation by mouse.
90-degree rotation, mirroring.
Negative/positive.
Mode for dynamical switching of images (movie mode).
Copying images to clipboard.
Saving images as external files. Images can be saved in the following formats: JPEG, BMP, DICOM.
Working with investigation protocols and protocol templates.
Protocols and investigation templates are edited in a built-in or external text editor.
Attached files
Presentation RIS
, PDF — 9680.8 Кб