News
09/09/2021
Presentation of YSAR+ Solutions in Norway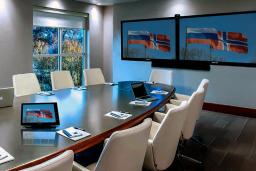 A videoconferencing session with the participation of YSAR+ JSC and Alexander Vitalievich Anikin and Artyom Mikhailovich Armeyev, experts from the Trade Mission of the Russian Federation in Norway, was held on September 8, 2020.
During the session Andrei Robsky, Director of the Center for International Projects of YSAR+, informed the participants on Russian high-tech platform developed by YSAR+, which is designed to support information exchange between healthcare institutions in the implementation of breast cancer, lung cancer, and cervical cancer screening programs in accordance with international standards. The platform offers capabilities for conducting remote consultations, obtaining and processing the results of screening programs, and it also includes neural network algorithms for prompt investigation and analysis of lung diseases in the COVID-19 pandemic. In response, representatives of the Trade Mission of the Russian Federation in Norway answered questions and consulted the YSAR+ specialists on the specifics of the Norwegian market and the prospects for cooperation.
The parties agreed to jointly promote YSAR+ solutions on the Norwegian market and take part in a seminar on information technology in the field of oncology – Norway Health Tech cluster seminar to be held on 29.09.2021.