News
24/11/2017
Tele-healthcare in Ivanovo: 1700 consultations in 2017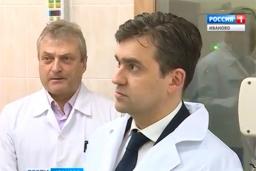 Sergey Y. Robsky, Head of YSAR+ JSC, visited the Ivanovo Regional Hospital where the complex of integrated systems JEMYS Tele-healthcare and JEMYS Digital Radiological Information System with Image Archiving Module (RIS + PACS) has been used for 10 years.
The automated workplaces of regional vascular centers (Ivanovo Regional Clinical Hospital, Kineshma Central District Hospital, Shuya Central District Hospital, Ivanovo City Clinical Hospital No. 3) have been combined into a single information space. YSAR+ specialists also have connected 7 healthcare institutions in the cities of Ivanovo, Kineshma, Shuya, Teikovo, Furmanov to the regional information network for processing of mammography.
On November 23, the Head of YSAR+ met with S.S. Voznesensky, Governor of Ivanovo Region, in the tele-healthcare center of the Regional Hospital's vascular center. At the meeting, the Governor was shown the existing YSAR+ solutions deployed at the site and presented plans for the development of JEMYS systems at the regional level.
I.E. Volkov, Chief Medical Officer of Ivanovo Regional Hospital, and N.S. Nagorny, Chief Radiologist of Ivanovo Region, highly appreciated the quality of the system and the level of its servicing. "1700 consultations have been conducted using JEMYS Tele-healthcare system this year only. Behind this numbers are the actual saved lives of our people – residents of Ivanovo Region", noted Nikolay S. Nagorny in conclusion.