News
29/01/2018
Regional development of tele-healthcare system in the Ulyanovsk region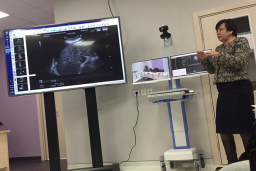 The conference with participation of S. I. Morozov (Governor of Ulyanovsk Region) took place on January 28, 2018 in Ulyanovsk Perinatal Center.
The main topic of this conference was implementation of information technologies and possibilities of their efficient usage within the framework of the Center's activities.
Specialists of YSAR+ provided in-house developed components of tele-healthcare system to the Governor, including specialist's workplace for holding remote tele-healthcare consultations.
Demonstration of functionality of YSAR+ mobile solution was of special interest to the Region's Governor, this solution being the Video Presence Stand to be used in operating rooms, functional diagnostics rooms and life support and intensive care units, as well as in places where tele-healthcare consultations will be held.
With the help of tele-healthcare technologies provided by YSAR+, Ulyanovsk Perinatal Center was connected to the unified tele-healthcare network of perinatal centers, which instantly allowed to perform communication session with colleagues from the Makhachkala Perinatal Center.
On the basis of results of the conference with participation of S. I. Morozov (Governor), R. A. Abdulov (Minister of Healthcare of Ulyanovsk Region) and A. M. Lebedko (Director of Ulyanovsk Regional Children's Clinical Hospital), a decision was taken to work on further stages of implementation of tele-healthcare technologies in the spheres of perinatal medicine, obstetrics and gynecology, with coverage of Ulyanovsk and Ulyanovsk Region.
Also, taking into consideration successful experience of YSAR+ in implementing screening automation system in regions of the Russian Federation, it was recommended to perform joint works for organization and implementation of these technologies within the framework of cancer treatment programs (breast cancer, lung cancer, cervical cancer).