News
26/04/2018
YSAR+ at the 10th Conference of oncologists and radiologists from CIS and Eurasia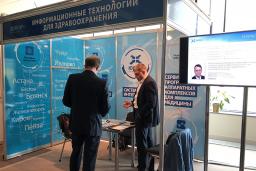 From April 23 to April 25, 2018, YSAR+ JSC took part in the milestone 10th Conference of oncologists and radiologists from CIS and Eurasia, which was dedicated to the memory of Academician N. N. Trapeznikov.
YSAR+ JSC presented screening automation technologies developed by it with participation of leading experts from N.N. Blokhin Russian Cancer Research Center. Participants of the event were also shown innovative solutions of YSAR+ JSC, namely the Medical Information System and the Cancer Registry Information System.
Cancer specialists from post-USSR countries visiting the company's showcase were interested in the experience gathered by YSAR+ JSC in the sphere of implementation of regional information systems. Marina Nikolaevna Kaygorodova (Regional Director of YSAR+ JSC) informed visitors on obtained statistical results of application of YSAR+'s technologies in the Chuvash Republic.
During the event, negotiations were conducted with directors of the Cancer and Radiology Scientific and Research Institute of the Republic of Kazakhstan,
well as with representatives of the center's Department for Strategic Development and International Cooperation. The negotiations resulted in the parties' agreement to conduct an extended presentation of YSAR+ JSC's solutions in round-table format within the framework of session of the Inter-Governmental Commission for Cooperation in the Sphere of Innovations.
After the presentation conducted by N. V. Kochergina (Doctor of Medicine, Professor of N.N. Blokhin Russian Cancer Research Center, Ministry of Health of the Russian Federation) on the System of Descriptions, Recommendations and Statistics (developed by YSAR+ JSC) within the framework of the report titled 'Innovations-Based Technology of Organization and Quality Estimation of Mammography Screening for Breast Cancer', a representative of administration of the Rostov Scientific Institute for Cancer research expressed interest in using this product in the Rostov region.
Solutions of YSAR+ JSC were also shown to representatives of national centers for cancer research from Armenia, Uzbekistan and Belarus.
A. A. Meshcheryakov (Deputy Director of N.N. Blokhin Russian Cancer Research Center, Ministry of Health of the Russian Federation) noted the importance of spreading and active implementation of the newest information technologies in day-to-day work of cancer research organizations within the framework of development of cooperation and partnership between the leading national centers from CIS and Eurasia.