News
17/02/2019
IT Solutions by YSAR+ Presented at the Congress of Oncoradiologists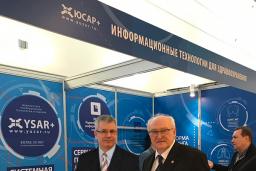 On February 15 and 16, YSAR+ JSC took part in the 2nd All-Russian Scientific and Educational Congress with International Participation "Oncoradiology, Radiodiagnosis and Radiotherapy".
"Professional communities, healthcare authorities and individual healthcare institutions should make significant efforts to reduce mortality from oncological diseases, increase the duration and quality of life of patients with oncological diseases, and improve early diagnosis of tumors," - noted Prof. Igor Evgenievich Tyurin, President of the Congress.
At their corporate booth, YSAR+ presented their products that ensure analysis of images obtained from diagnostic examinations, generation of examination records, monitoring of diagnosis quality by additional review of diagnoses, and statistical analysis of the accumulated data.
The visitors of the stand were particularly interested in the systems supporting decision making in the course of early detection of diseases and the automation of screening processes.
The platform – the system of descriptions, recommendations and statistics – was developed by YSAR+ to create the technological basis for diagnostic and screening activities. The three-level architecture of the system offers its users various functionalities depending on the configuration chosen.
The IT complex also includes training software for radiologists, laboratory assistants and diagnosticians.
The participation of YSAR+ both as an exhibitor and as a sponsor of the event was, as usual, commended by the organizers of the Congress.