News
06/11/2019
Developing a Regional Project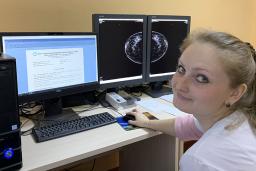 5.11.2019 – YSAR+ completed the action plan for introduction of a diagnostic hardware-software complex at BlagoDarenie Medical Center (Arzamas, Russia).
In the complex, JEMIS customized software combines a mammographer by Planmed (Finland) and an ultrasonography apparatus by Schwabe Holding into a unified digital loop.
JEMYS: Telemedicine (version 4.0.1) and JEMYS: Radiological Digital Information System with a Picture Archiving Module (version 4.0) customized software packages automate routine operations of a diagnostician and enables remote counseling with regional and federal competence centers.
The configuration "System of Descriptions of Recommendations and Statistics (SORS-MS)" in the framework of JEMYS: Telemedicine (version 4.0.1) package will become an effective tool in daily practice activities of physicians engaged in mammography studies.
The system holds a registration certificate issued by Roszdravnadzor (Federal Service for Surveillance in Healthcare of the Russian Federation).
Top management of BlagoDarenie Medical Center relies on further and deepening cooperation.