News
14/12/2019
YSAR+ Technologies for the Implementation of National Projects in the Republic of Myanmar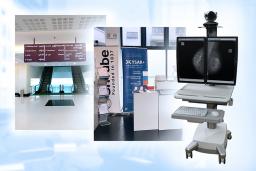 On December 10, the experts of YSAR+ JSC, as participants of the joint delegation of the Russian-Singapore Business Council and Schwabe JSC, visited the leading healthcare centers of Myanmar and held negotiations, during which they discussed the main directions of the country's healthcare infrastructure development program and the possibilities for Russian manufacturers to participate in it.
As part of the national healthcare program in the Republic of Myanmar, it is planned to build 13 latest-generation cancer centers.
Fundamental agreements have been reached on the delivery of high-tech Schwabe and YSAR+ solutions for the diagnosis and treatment of various diseases, primarily in the field of oncology and cardiology.
The Russian-Singapore Business Council intends to establish a representative office in Myanmar.
The future office will ensure prompt resolution of issues related to the supply of equipment, methodological support of projects, deployment of modern innovative solutions, and expert support of healthcare institutions of Myanmar by leading Russian oncology and cardiology centers.