News
17/02/2020
YSAR+ at the 3rd Congress of Oncoradiologists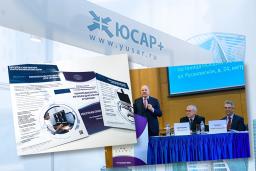 On February 14-15, YSAR+ JSC took part in the 3rd All-Russian Scientific and Educational Congress with international participation "Oncoradiology, Radiation Diagnostics and Therapy".
The professional platform created by the organizers of the Congress with the aim of providing radiation diagnosticians and therapists with a unique opportunity for training and professional communication is used by YSAR+ to demonstrate its new technologies and solutions.
"Now that our capabilities have grown immeasurably, the tasks that our society and the government have set for us in the field of early diagnosis and effective treatment of socially significant diseases have grown proportionately", - emphasized Andrey Vladimirovich Vazhenin, Prof., Member of the Russian Academy of Sciences and the President of the Congress.
At the Company's stand, negotiations were held with foreign and Russian partners about the possibility of technological cooperation on the development of a multifunctional platform for early diagnosis and automation of screening procedures.
The platform - a System of Descriptions of Recommendations and Statistics - was developed by YSAR+ to create a technological basis for diagnostic and screening activities. The three-tier system architecture offers its users different functionalities depending on the chosen configuration.
As per usual, the organizers of the Congress expressed their gratitude to YSAR+ for its participation in the event, both as an exhibitor and as a sponsor.