News
02/03/2020
YSAR+ Telemedicine Solution Launched in the Hashemite Kingdom of Jordan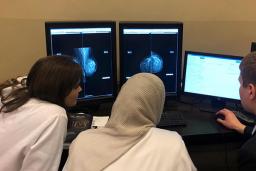 Within the framework of the Cooperation Agreement between the Ministry of Health of Jordan, YSAR+ JSC and the Russian-Jordanian Business Council providing for the automation and standardization of breast cancer screening in the Hashemite Kingdom of Jordan, the healthcare centers Basheer Hospital и Prince Hamzan Hospital (Amman), Karak Hospital (Karak), Zarqa Hospital (Zarqa), and Yarmouk hospital-Bani kananah (Irbid) implemented the System of Descriptions, Recommendations, and Statistics for Mammographic Screening (SDRS-MS). The implementation process included the installation and setup of the SDRS-MS system at each of the healthcare centers, along with trainings for its users.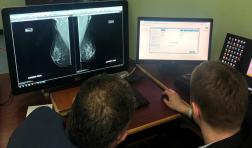 The SDRS-MS system is designed to formalize and standardize the description of medical examinations, the information exchange among specialists of healthcare institutions during remote consultations, and to analyze the results of breast cancer screening programs in compliance with international standards. The System organizes the routine work of radiologists, automates the activities of diagnosticians related to screening and early diagnosis, transfers medical data for analysis and archive storage, and enables the quality evaluation of screening at all stages
The configuration of the YSAR+ solution implemented in the Hashemite Kingdom of Jordan provides for the possibility of conducting remote consultations with the experts of the Basheer Hospital (Amman) competence center, and, if necessary, with the experts of the National Cancer Center in the Russian Federation
The first stage of the implementation of SDRS-MS software has been completed. At the next stage, it is planned to conduct refresher trainings for Jordanian specialists, to increase the number of Jordanian state hospitals connected to the System, and to develop programs for the organization of screening for lung and cervical cancer
During the working meetings of the Director of the Center for International Projects of YSAR+ JSC Andrei Robsky and the Deputy Chairman and Director of the Russian-Jordanian Business Council Valery Kononenko with the Secretary General of the Ministry of Health of Jordan, Dr. Ammar Al-Shurafa, it was noted that the project was launched successfully
The Heads of all the Jordanian hospitals participating in the project confirmed the timeliness of the launch of this software and expressed their hope that the active kingdom-wide use of the System will reduce the cancer mortality rates in Jordan.
Following the implementation, a report was signed at the Jordanian Ministry of Health on the start of the pilot project. The first results of the project will be reported at the next meeting of the Russian-Jordanian Intergovernmental Commission for Trade and Economic, Scientific and Technological Cooperation Development.
Also, a working meeting was held with the Director of the leading Jordanian company Electronic Health Solutions, Mr. Feras Ragheb Kamal. During the negotiations, the parties discussed the prospects for further cooperation.
YSAR+ thanks the Russian-Jordanian Business Council for lending great support to this project, coordination and monitoring of its implementation, and ensuring the development of mutually beneficial cooperation between the project participants.