News
11/08/2020
Development of our Project in Belgorod Region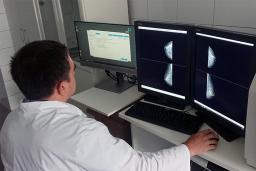 YSAR+ continues its successful cooperation with the National Women's Health Care Foundation within the framework of the implementation of "Women's Health" program in the regions of the Russian Federation.
Information technologies developed by YSAR+ are used to automate the process of early diagnosis and prevention of breast cancer.
The success of the "Women's Health" program in the Kursk Region (Zheleznogorsk) made it possible to extend the experience of its implementation to the Belgorod Region.
In the Belgorod Region, the project started with the introduction of our hardware-and-software complex in the Central District Hospital of Gubkin, and this year it was taken further to Stary Oskol.
Active use of "JEMYS Telemedicine" with the module "System of descriptions, recommendations and statistics for mammographic screening" (SDRS-MS) will significantly facilitate the routine activities of the specialists at the Stary Oskol District Hospital of St. Luke of Crimea when preparing medical reports based on the results of instrumental examination, as well as upgrade the diagnosticians' skills by improving the protocol generation process in accordance with the international standard.
The implemented hardware-and-software complex also makes it possible to consult (get a second opinion of) both region-level specialists and experts of the Federal research center.
The complex includes a software suite from YSAR+ (registered with the Federal Service for Surveillance in Healthcare) and a dedicated workstation equipped with two 5-Mp medical monitors for the analysis of the obtained diagnostic images, as well as a standard monitor for the generation of a protocol based on the examination results.
The specialists of YSAR+ have instructed the medical staff of the hospital on the use of the hardware-and-software complex.