News
27/05/2021
YSAR+ Expert Consultations in Malaysia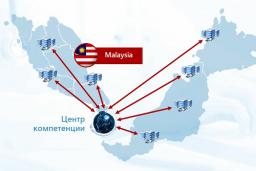 On May 25, the Working Group on Cooperation in Industry and Trade created in the framework of the Joint Russian-Malaysian Commission on Economic, Scientific, Technical and Cultural Cooperation held their first meeting. The event was chaired by Alexey Gruzdev, Deputy Minister of Industry and Trade of the Russian Federation, and Lokman Hakim Ali, Secretary General (Deputy Minister) of the Ministry of International Trade and Industry of Malaysia.
In anticipation of the event, within the framework of the meeting of specialized working groups, YSAR+ took part in expert consultations organized by the parties.
Malaysian colleagues were introduced to a number of Russian products manufactured by YSAR+, including a software system for breast cancer screening automation (System of Descriptions, Recommendations and Statistics for Mammographic Screening, SDRS-MS), and a medical decision support system for diagnosis of COVID-19.
There was a discussion on organization of pilot zones in Malaysia for the implementation of Russian information technologies for early diagnosis and screening of cancer in Malaysian healthcare institutions.
"Currently, YSAR+ is participating in events organized by the Trade Representation of the Russian Federation in the Republic of Malaysia, which are aimed at the search and development of promising contacts in the field of digital technologies for medicine. We expect that active cooperation with our Malaysian colleagues within the framework of such business missions will allow us to successfully implement our upcoming joint projects", stressed Andrey Robsky, Director of the International Projects Center of YSAR+ JSC.