News
17/11/2021
YSAR+ at NOVAMED-2021 All-Russian Forum with International Participation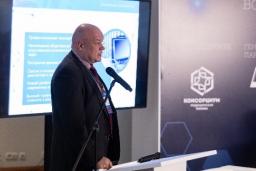 On November 15, the 1st All-Russian Forum with International Participation named "NOVAMED-2021", organized by the Ministry of Health, the Federal Service for Supervision of Health Care and the Ministry of Industry and Trade, took place in Moscow. The event focused on the issues of work with medical devices in Russia and abroad.
YSAR+ JSC presented its experience in creating medical devices at the session "Prospects for Digitalization in Healthcare. The specifics of circulation of software constituting medical devices. Artificial Intelligence". S.V. Dyachenko, Deputy Director delivered a report. His presentation outlined the core aspects of the creation of the software "JEMYS: Telemedicine with Decision Support System for Analysis of DICOM Standard X-Ray Images", which is a decision support tool for physicians that uses neural network technologies for processing CT scans to improve the efficiency of diagnosis of new coronavirus infection.
"YSAR+ develops innovative technologies to automate the routine activities of diagnosticians. The product represents a further development of the SDRS family of applications; it helps a doctor to promptly determine the volume of lung tissue damage and also to record a number of additional parameters for a more accurate diagnosis," Sergey Dyachenko noted in his speech.
The forum also included a business breakfast with representatives of public and private healthcare organizations, as well as potential partners. Agreements were reached on cooperation aimed at further development of the solution package developed by YSAR+ JSC.