News
19/11/2021
YSAR+ at the AI Conference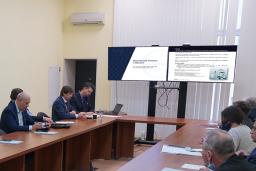 On November 18, the Scientific and Technical Conference "On Neural Network Algorithms and AI Technologies" was held at the site of Shvabe Holding of Rostec State Corporation.
The business program included a plenary session and two thematic sections. The Holding was represented by specialists from Shvabe headquarters, E.S. Yalamov Ural Optical and Mechanical Plant, S.A. Zverev Krasnogorsk Plant, and the SPA State Institute of Applied Optics.
Evgeny Vladimirovich Kulgashov, Head of the Department of KMZ PJSC, made a report on "Artificial Intelligence in Healthcare". The speaker informed the conference participants on the implementation of the joint project with YSAR+ JSC for the creation of a new unique hardware-software complex to improve the quality and speed of diagnosis of the main diseases to be diagnosed with a colposcope.
As part of the project, a new integration solution is being created, which includes the automated laser surgical complex ALHK-01 (by KMZ) and an integrated platform, the System of Descriptions, Recommendations and Statistics (by YSAR+) for the diagnosis and screening of cervical, vaginal and vulvar diseases
"Due to the rapid development of AI technologies, new tasks and solutions are being formed. The initiatives voiced at the conference are highly relevant and can yield positive results in the future," said Sergey Popov, Shvabe's Deputy General Director for Advanced Research and Development and head of the priority technology area for optoelectronics and photonics.