News
22/11/2021
YSAR+ at Medica 2021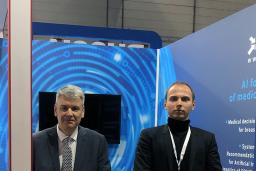 The largest international medical exhibition Medica 2021 took place in Düsseldorf (Germany) on November 15-18.
YSAR+ participated in the exhibition and presented its technologies and solutions on the united Russian stand with the support of the Russian Export Center.
This year, along with the well-established products, we demonstrated new diagnostic software COVID-19 (SDRS-COVID) as part of the Radiology Information System and configurations of the integrated platform – "System of Description, Recommendations and Statistics".
"This is an innovative development based on AI technologies. This product is being actively developed, and we see a good potential for its entry into international markets," said Andrey Robsky, Director of the International Projects Center of YSAR+ JSC.
As usual, thanks to the efforts of the REC, a number of targeted meetings with interested buyers of the
product
took place. At the business meetings held, opportunities of mutually beneficial partnership were discussed with representatives of Germany, France, Belgium, Hungary, Poland, Denmark, the USA, Singapore, Czech Republic, Finland and Israel.