News
26/11/2021
JEMYS Presented at the IT and Equipment Platform in Vietnam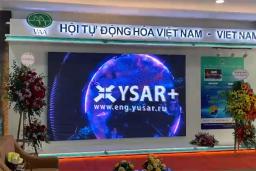 Official opening of the "Information Technology and Equipment Platform & Demonstration of Innovative Startup Products" was held under the auspices of the Ministry of Science and Technology of Vietnam, and with the participation of the National Information Agency of Science and Technology of Vietnam.
The platform was created to prepare the ground for the effective implementation of innovations, market analysis and forecasting of trends in technology development.
One of the platform participants, Exalab Pharmaceuticals Company Limited, is a strategic partner of YSAR+ JSC in Vietnam. A representative of the Company made a report at the event and presented the technologies of YSAR+ JSC, the implementation of which in Vietnam's medical sector will significantly improve the effectiveness of early diagnosis and screening programs.
After the 3 official opening days and the demonstration of R&D products, the Platform will continue to operate and organize business meetings of its participants to promote products and technologies in both the Vietnamese and international markets.