News
07/06/2021
YSAR+ at the International Mammology Forum in Dagestan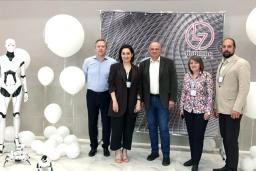 The III International Mammology Forum was held on June 5 at the Scientific and Educational Innovation Center of Dagestan State Medical University.
Participants of the forum were ultrasound diagnosticians, radiologists, mammologists, oncologists, surgeons, and doctors of other specialties from subjects of the Russian Federation and the near abroad.
The YSAR+ delegation at the forum was headed by Sergey Dyachenko, Deputy Director of the Company.
Speakers of the Forum's scientific program discussed with the audience the ways to effectively and accurately identify women's health issues, which, in turn, will ensure the choice of the right treatment at the earliest stages of disease.
YSAR+ representatives held a series of meetings with managers and top specialists of the Association of Mammology and Radiology of the Republic of Dagestan and the National Medical Research Radiological Centre of the Ministry of Health of the Russian Federation (NMRRC). In the course of negotiations, Dagestan colleagues were introduced to the functional capabilities of the System of Descriptions, Recommendations and Statistics for Mammographic Screening (SORS-MS) developed by YSAR+, which is ready to be implemented within the information network of regional healthcare to improve screening for and early diagnosis of cancers in the Republic.
"
Our solutions combine the competences of leading Russian and international experts. The unique YSAR+ products will allow to qualitatively upgrade the regional system of breast cancer screening and early diagnosis,
" – stressed
Sergey Dyachenko
.