News
30/10/2021
YSAR+ technologies in the information loop of the V.A. Almazov National Medical Research Center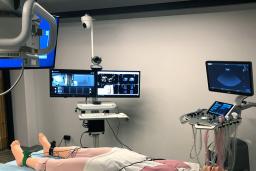 The V.A. Almazov National Medical Research Center of the Ministry of Health of the Russian Federation is one of the leading Russian research centers that makes a significant contribution to the development of advanced diagnostic and treatment methods in healthcare.
As part of the construction of two major infrastructure facilities of the Center, a research center for the development of artificial intelligence in healthcare Artificial Intelligence Technologies for Health and BOILING POINT Biomedical Youth Innovation Hub (Almazov Center), an information platform for the application of information technologies implemented in healthcare was created on the Center's territory.
In the digital operating room loop, a mobile multifunctional complex developed by YSAR+ JSC in cooperation with Rostec State Corporation (Shvabe Holding Group, Shvabe-Moscow) was presented, equipped with a universal set of software for a wide range of medical and diagnostic activities. The complex includes:
1. Software JEMYS: Endoscopy digital processing and management system (Version 5.0.);
2. Software JEMYS: Radiology digital information system with image archiving module RIS+ PACS 3D (Version 4.0.);
3. Software JEMYS: DICOM image reception, processing, and storage server (Version 4.0.);
4. Software JEMYS: Telemedicine (version 4.0.1.), including:
• Process kernel of the remote medical consultations system;
• Workplace of the remote medical consultation system;
• System of description, recommendations, and statistics for mammographic screening
Yevgeny Shlyakhto, Member of the Russian Academy of Sciences and General Director of the Almazov Center emphasized that the Center is ready to actively implement information technologies that have successfully proven themselves in practical work and meet high international standards and requirements.